If you are having a new home built you may very well wish to consider installing underfloor heating. It has several benefits over a radiator system and is more energy efficient.
There are two types of underfloor heating, either a water-based system or an electric system. An electric system is powered by electric heating wires or an electric heating mat, while a water-based system uses water which is heated by your heat source and then pumped through a pipe system.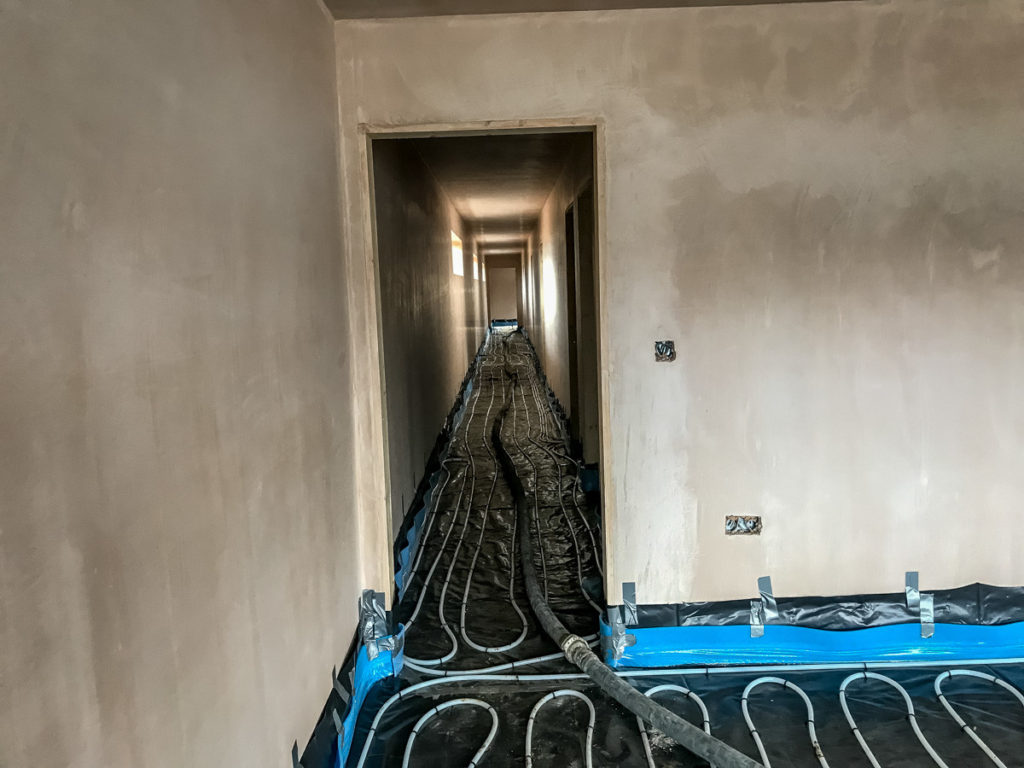 For new build projects a water-based system is recommended, while an electric system can work well in small rooms such as a bathroom and in renovation projects. The reason that an electric system is better for renovation projects is that it will not require the floor level to be raised significantly, while in a new build project the extra depth of cover for the heating pipes in a water system can be allowed for in the design.
Both systems use radiant heat technology which gently warms the room and the people in it from the floor up as opposed to a radiator system which simply heats the air and wastes a considerable amount of energy. Using underfloor heating also does away with the need for pipes and radiators in the room, so is more aesthetically pleasing.
A water system works by heating water either from a boiler or an air-source or ground-source heat pump and pumping it through a pipe which is laid within or on top of the subfloor beneath the final flooring finish.
Electric systems are available either as a heating cable, which is an electric wire which can be installed directly on to or within the subfloor, or as a heating mat. The latter has ultra-thin electric wires which are attached to a mat which can simply be rolled out and fixed to the subfloor.
With both systems, installing high-quality insulation will greatly enhance the efficiency of the system and reduce heat loss which in turn helps to keep running costs lower. Running costs will vary depending on the construction of the home, the insulation, energy tariffs, and the way that you control the heating. In general, an electric system will cost more to run than a water-based system. However, an electric system costs less to install.
At UK Screeds we lay and install underfloor heating systems as well as a screed. When using a water-based heating system, our liquid screeds, or floor compounds, have several advantages over a traditional sand and cement screed. When installing our floor compound in Devon – or any county – it will completely cover the water pipes, which results in maximum heat transfer to the room. When you use a sand and cement screed which is trowelled on by hand, it is very difficult, if not impossible, to completely envelop the pipes, so the heat transfer to the room above will not be even.
Furthermore, the thermal heat transfer properties of our liquid gypsum screeds are almost double those of sand and cement which helps to reduce running costs. In addition, our liquid screed does not have to be laid as thickly as sand and cement screed which also means that less energy is used to achieve the desired level of heat in the room. All of these savings will continue for the life of the building.
Yet another very important feature of our liquid floor compounds is that the installation time is far less than that of traditional sand and cement screeds. The screed is delivered to site ready mixed and we use a pump and hose to pour the screed into position. Our expert teams can lay as much as 2,000 square metres of screed in a single day which is up to 20 times faster than a sand and cement screed can be laid. Furthermore, the screed will be dry enough to walk on, although not to install the final floor surface, in 24 – 48 hours. This means that there is a minimal delay to other contractors who need to work on the site, and on any building project time is money. In addition, the screed can be force-dried after 7 – 10 days in order to speed up the overall drying time.