Traditionally, for many years a screed has been laid which consists simply of sand and cement. Some diehard architects and contractors are still sticking to sand and cement, despite the rise and rise of liquid anhydrite screed.
At UK Screeds we are specialists in the provision of liquid screeds for the purpose of providing a level surface upon which to lay a final floor in a building. Whatever type of final flooring is to be used, it has to be laid on something which is flat, because if it is not there will be problems, and they could be very expensive to sort out. It is far better to get it right from the start than to cut corners and pay the price later.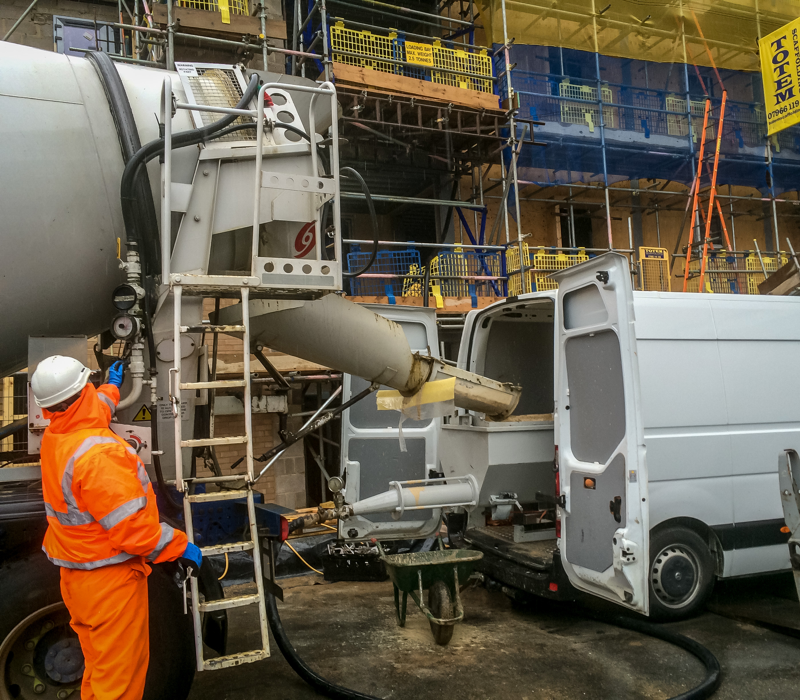 So what's the difference between a sand and cement screed and a liquid anhydrite screed in Cambridgeshire – or anywhere else for that matter?
A traditional sand and cement screed is mixed by labourers on site using a cement mixer. A ratio of 1 : 3 to 1 : 4.5 of cement to sharp sand is used, so one shovel of cement to three shovels of sand, or two shovels of cement to nine shovels of sand. You can immediately see that the mixes are never going to be exact because one shovelful may be bigger or smaller than the next depending on how strong or tired the labourer is, and it is also possible to lose count! Then it is likely that the amount of water added will not be exact either.
Once mixed, the screed is barrowed on to the floor and is laid by a man on hands and knees using a trowel to smooth it out. This can be a very long process. The average labourer will probably only be able to lay about 100 square metres in a day.
By contrast, our liquid anhydrite screeds are mixed off site by machine and delivered ready-mixed. Because they are in liquid form we do not barrow them on to the floor but use a long hose and a pump, and pump the screed into position. This is far faster than laying sand and cement and, indeed, our expert teams have been known to lay as much as 2,000 square metres in a day – 20 times as fast!
We use a system of tripods together with a laser to ensure that the screed is levelled as near perfectly as possible. This will often be up to the standard of SR1 which is the best measurement, but never less than SR2. Sand and cement screed is usually no better than SR3.
Another huge advantage of liquid anhydrite screed is that it doesn't shrink or curl as it dries, which minimises the risk of cracking. Just as good is the fact that, because it is liquid it flows into whatever shape is required and doesn't leave any gaps or voids. This is of critical importance when underfloor heating is being installed as it completely covers all the pipes, so it follows that the heat transfer into the room will be 100%. With a traditional sand and cement screed it is almost impossible to achieve this and there will always be little gaps here and there.
Our liquid anhydrite screeds can also be laid a lot thinner than a sand and cement screed. Not only does this save on materials, but it also means that when underfloor heating is being used, the room will heat faster, therefore using less energy to achieve the same temperature. Not only that, but the screed itself has almost double the heat transfer properties of sand and cement, so there is a further energy saving that way as well.
Our liquid screed is also fast drying and can be walked on in as little as 24r hours and certainly no more than 48 hours. It can also be force dried which will reduce the time gap between laying the screed and adding the final floor surface even further.
Of course, there has to be a downside, and in the case of liquid anhydrite screed it is that a layer of what is known as laitance will form on the surface as the screed dries and must be sanded off before the flooring is added, so this is an extra process. However, the overall cost of liquid screed and sand and cement works out at about the same. Our liquid screed at UK Screeds has so many benefits that it is a wonder that anyone still uses the old method.