On occasion it is possible that a concrete floor may be laid that will not require a screed to be laid over the top of it. This could be if something such as a factory or warehouse is being constructed when the only purpose of the floor is practical use and the appearance is of no concern whatsoever.
However, where a final floor finish is to be laid, a screed will be required so that the flooring materials are affixed to a flat and level surface, and the screed that is used can be either a traditional sand and cement screed or one of the newer flowing liquid screeds. The latter can be in one of the various formats as there are many proprietary screeds available, but in most cases, they will be of anhydrite/gypsum and sand.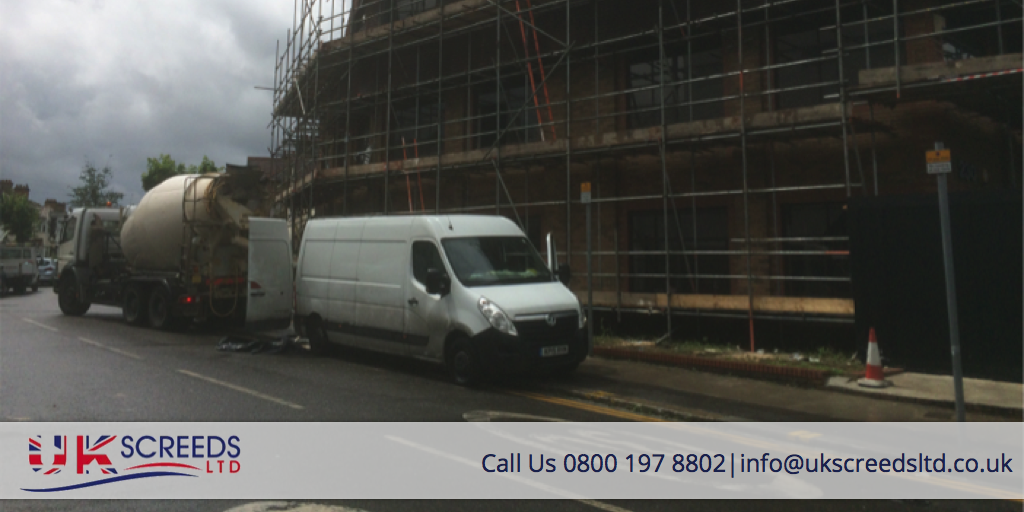 As a screeder in Surrey, at UK Screeds we lay liquid anhydrite screeds which have many advantages over traditional sand and cement screeds.
Traditional sand and cement screeds are suitable for all types of application provided they are specified correctly. The specification of the screed begins early in the design process and the issues that dictate this include the final floor finish, falls in wet areas, construction tolerances, and whether or not underfloor heating is to be installed.
A bonded screed is bonded directly to the substrate below, and the main way that bonded screeds fail is that the bond between the substrate and the screed fails. This is more likely to happen if the screed is too thick.
An unbonded screed is separated from the substrate by a membrane and the main way that unbonded screeds fail is if the screed is too thin. If the screed is too thin it is more likely to curl. So, unbonded screeds should be thick – 70mm at least – and if curling is to be avoided, 100mm or more. Bonded sand and cement screeds should be thinner, less than 50mm. Where underfloor heating is being laid, the screed needs to be at least 75mm thick.
However, our liquid screeds can be laid a lot thinner than sand and cement screeds and we normally work on 45mm total depth when underfloor heating is being installed.
Our liquid screeds have many advantages over sand and cement, not the least of which is the speed of laying. Sand and cement screeds are usually mixed on site for small contracts and barrowed on to the substrate. These are then levelled off by a man on hands and knees using a trowel. Obviously, this is a slow process, but it can be made faster by having the screed delivered to site ready mixed. If this is the case, the screed will have additives so that it does not dry quickly and can be used all day.
However, our liquid screeds at UK Screeds are delivered to site ready mixed and because they are liquid are pumped on to the substrate through a long hose. The process is really fast – we can lay 100 square metres in around 45 minutes where the same area using sand and cement would take all day. If being laid as a bonded screed we generally aim for a thickness of 25mm. However, if underfloor heating is installed, we would advise 45mm in order to cover the pipes satisfactorily.
Liquid anhydrite screed has better heat transfer properties than sand and cement: in fact, it is almost twice as good, which means that less energy is used to bring the room up to temperature. Another benefit is that the screed is thinner than sand and cement which also helps with the speed of heating.
Yet another advantage of our liquid screeds is that they completely envelop the heating pipes leaving no gaps or voids as is common with sand and cement, so the heat transfer into the room is completely even with no cold spots. The screeds that we install also achieve a surface regularity of at least SR2 and very often SR1.
In addition, our liquid screeds are dry enough to walk on after a maximum of 48 hours, and often as little as 24 hours. This means that there is no hold-up for other contractors who need to work on the site.