Liquid screed is becoming ever more popular as architects realise the many benefits that it has over and above traditional sand and cement screeds. If you are considering how to construct the floor, and various flooring finishes, on a project, then you will no doubt have questions about its benefits and whether or not it is the most suitable for what you have in mind.
Underfloor heating systems are being used more and more in newbuild projects because they are so much of an improvement over a radiator system, and furthermore the cost of underfloor heating installation works out at about the same as radiators. When you use liquid screeds in conjunction with an underfloor heating system, you will find that there are several benefits, not the least of which is that the screed will increase the thermal conductivity of your underfloor heating for not one, but two reasons.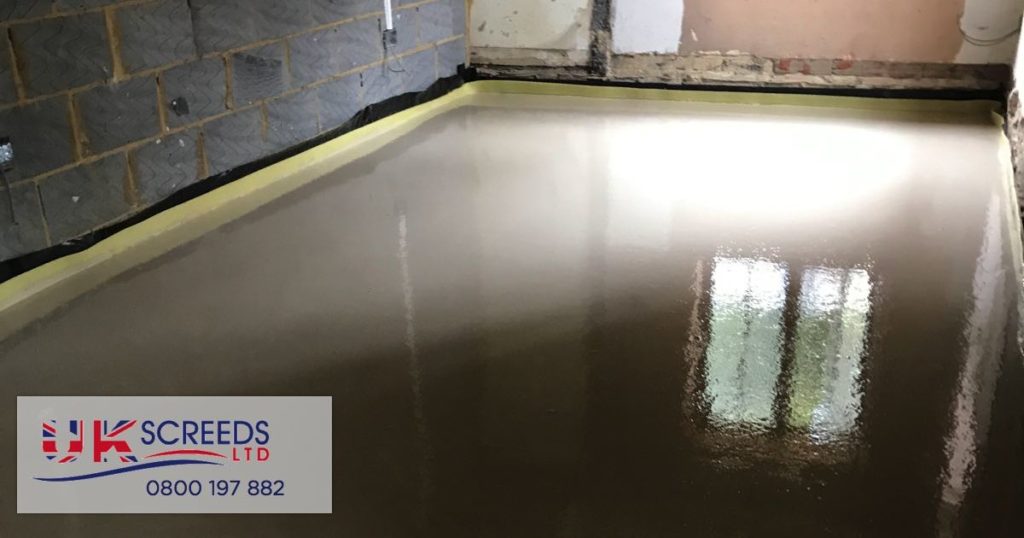 At UK Screeds we can help you with both the provision of a liquid screed for your project and also our expertise in the installation of underfloor heating. It has to be done right, because once installed and screeded over you cannot go back and change anything.
What Is The Difference Between Liquid Screed And Sand And Cement?
A traditional sand and cement screed is composed, as you would expect, of cement and sand in a ratio of 1 part cement to 3 parts sand up to 1 part cement to 4.5 parts sand.
Our liquid screed, on the other hand, is composed of anhydrous (dry) calcium sulphate which typically is composed of about 35% recycled content. When water is added to it, it becomes gypsum. This is where some people get confused because the terms "anhydrite", "gypsum", and "calcium sulphate", are all used, as are "liquid screed", "flowing screed", and "self-levelling screed", but all refer to the same material. Just to add to the confusion, it is also possible to get a liquid cement screed today!
Why Use Liquid Screed Instead Of Sand And Cement?
Liquid screed is far faster to install than sand and cement. It is pre-mixed off site and we deliver it and pour it on to the substrate using a long hose and a pump. This way, we can lay as much as 2,000 square metres in a day, which is up to 20 times as fast as laying sand and cement and levelling it out as much as possible with a trowel used by a man on his hands and knees.
You can immediately see that this saves a considerable amount of labour. Furthermore, our liquid screed is dry enough to walk on in 24 – 48 hours. This means that there is minimal delay on site to tradesmen who need to carry out other tasks.
Is There Any Special Preparation Needed Before Laying The Screed?
Yes. The substrate needs to be cleaned off and any bumps removed. The screed can either be directly bonded to the substrate or it can be laid over a layer of 500-gauge polythene. We can also add a layer of insulation before installing the screed. If insulation is to be added it will need to be tanked with polythene so that the screed does not escape.
What About Underfloor Heating?
Liquid screed is by far and away the best solution for underfloor heating. At UK Screeds, we are experts at installing underfloor heating. This has to be done correctly so that the heating pipes do not float when the screed is poured. One very big benefit is that the screed totally covers the pipes, so there are no gaps or voids to trap air and interfere with the transfer of heat into the room, as happens with sand and cement.
Liquid anhydrite screed also has almost twice the thermal conductivity properties of sand and cement which means that less energy is required to heat the room to the necessary temperature.
Any Other Advantages?
Liquid screed thickness in London, or anywhere, can be much thinner than sand and cement. For instance, even when laying underfloor heating, the maximum thickness only needs to be about 45mm, which is far less than sand and cement, so less material is required. Furthermore, our liquid screed does not curl and shrink in the way that sand and cement does.
To find out more about the benefits of liquid screed, just call us on 01865 660026 or email info@ukscreedsltd.co.uk.