One of the most critical parts of any construction project is making certain that the substrate upon which the final flooring is going to be laid is as flat and level as it can possibly be. The usual answer is to lay a screed on top of the concrete in order to produce a level surface, and the ideal is the measurement SR1 – Surface Regularity 1. SR2 is fairly good, although not perfect.
For many years, the traditional screed has been made of sand and cement and has been laid with a trowel. This has many disadvantages, not the least of which is when underfloor heating is going to be installed as well. Laying a sand and cement screed is also a long-drawn-out job, being installed as it is by a man on hands and knees.
When underfloor heating is being installed it is also almost impossible to cover all the heating pipes perfectly without leaving any gaps. This has a direct effect on the overall efficiency of heat transfer from the heating pipes into the room. Furthermore, when being used in conjunction with underfloor heating, a sand and cement screed needs to be laid very thickly, so uses a considerable amount of material.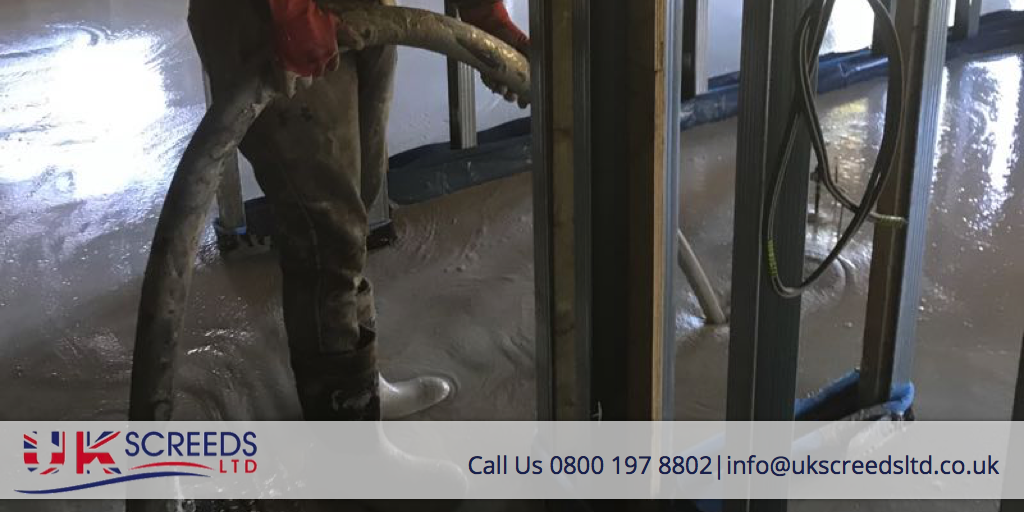 However, fast forward to the 21st century and we now have the ideal replacement in the form of the liquid screeds that we provide at UK Screeds. Liquid screeds have many advantages over sand and cement, not the least of which is the speed of laying. We deliver the screed to site ready-mixed, so just to begin with there is no need for contractors using a cement mixer and carting the screed back and forth in a wheelbarrow.
Because the screed is ready-mixed, the product is all the same. When you mix sand and cement in a cement mixer, the quantities of each will vary quite considerably depending on how much is on each shovelful, how much water is added, and so on, which results in an uneven mix.
Our liquid screeds are poured through a large pipe, using a pump, and the result is that the screed can be laid far faster than sand and cement laid by hand. In fact, it has been calculated that a liquid screed can be laid around 20 times faster. Certainly, at UK Screeds our teams can lay an anhydrite screed in Reading or any other town for that matter at a rate of as much as 2,000 square metres a day. This means that the men are on site for a very short time.
Furthermore, our liquid anhydrite screeds will be dry enough to walk on within 24 – 48 hours which has the additional benefit that other contractors on site are not delayed in their work.
Another big benefit of our liquid screeds is when they are used in conjunction with underfloor heating. The screed itself transfers heat at almost twice the rate of sand and cement which means that there is an automatic ongoing energy-saving. However, another advantage is that, because the screed is liquid, it flows all around the heating pipes and leaves no gaps whatsoever, so the heat transfer is 100% efficient and spread evenly across the room.
There is another advantage in that the calcium sulphate-based binders allow the screed to be laid far thinner than sand and cement.
However, there is one thing that needs to be taken into account when tiling and installing the final floor finish, and that is that anhydrite screeds are inherently incompatible with cement and cement-based adhesives. The sulphates react with the calcium aluminates present in cement and form a crystalline powder called ettringite. This can weaken the screed and cause delamination of tiles and other floor finishes, which in turn increases the risk of floor failure. This can be aggravated by any moisture either from within the screed or from spillages and so on.
This means that it is important to ensure that the adhesives used are compatible with anhydrite screeds. It is also important to allow the screed to dry for the prescribed drying time before laying the floor finish. If cement-based adhesives are to be used, it will be necessary to prime the screed with an appropriate priming agent recommended by the manufacturer.