At this time of the year, not many people are thinking about heating their homes. If anything, they are thinking about how to cool them rather than heat them, especially after the recent hot weather in many parts of the country.
However, believe it or not, it won't be all that many weeks before the weather cools again and people will be switching on the heating once more, even if only a little to begin with. Heating costs money, and many heating systems can be quite wasteful. Radiators, for example, send a lot of heat up to the ceiling and they don't heat the room evenly, either. This means that there are colder spots, so the radiator gets turned up some more in order to warm them up.
Some people, especially the older, may also use electric wall heaters or fan heaters, both of which consume large amounts of energy.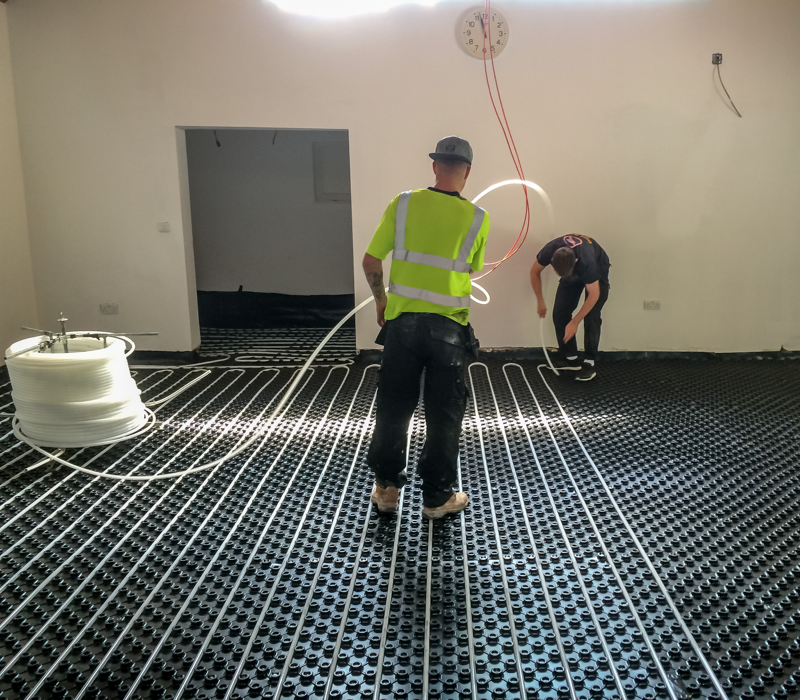 Probably the most energy-efficient form of heating is underfloor heating. This is because it spreads the heat entirely evenly across the room and, depending upon the type of installation, will generally use a lot less energy than radiators do to achieve the same level of warmth in the room. However, until recently, underfloor heating has been regarded as expensive to install, and something that is only for upper-end properties.
That is by no means necessarily true, and when you take into account the energy savings, underfloor heating will cost far less than a radiator system because those savings will continue for the life of the building.
There are two basic types of underfloor heating – either electric which is available as a heated mat or a heated cable system and a water system which involves pumping heated water through underfloor pipes, also known as circuits, which are laid on top of the subfloor upon which the final floor surface is installed.
If you are considering asking us at UK Screeds to install underfloor heating in Surrey, or anywhere else for that matter, whether as part of a new project or as a retrofit, you need to consider the options.
If you are working on a new build project, water systems are generally recommended for those where the system will be the primary source of heat throughout the building. Most of these types of the system need to be installed within a thick layer of screed which leads to a greater screed depth than required for an electric system. The liquid screed that we install at UK Screeds is the perfect solution for a waterpipe system because not only does it totally envelop the heating pipes leaving no gaps, but it also has nearly twice the heat transfer properties of a typical sand and cement screed.
If you are working on a renovation project, an electric system may be preferable because it doesn't require as much screed and therefore won't have a noticeable effect on the height of the floor. Electric systems are available as a heating mat with very thin heating wires attached to a mat which can simply be rolled out and fixed to the subfloor. This type of heating could be installed in a room in a half-hour or so if it comes with self-adhesive backing.
Heating cables are in the form of a free-flowing electric wire which can be installed on to the subfloor or within the screed. Electric systems are also ideal for small rooms such as a bathroom where installation could typically cost between £600 and £800.
Water-based heating systems generally take longer to install than electric, as there is a need to test the flow and pressure of the water, and also for the screed to dry, but in the case of our liquid screeds, this is only a matter of 48 hours as a maximum before the screed can be walked on.
The overall running costs of an electric system tend to be greater than water-based which uses a ground source or air source heat pump. It will depend on the tariffs set by your electricity supplier. Controlling the heating system with a thermostat will also help to keep running costs down.