Floor screeds have traditionally been made of sand and cement and have been used for years for the purpose of levelling out a concrete substrate so that the surface on which the final flooring is going to be laid is as level as it can be. This is particularly important when the flooring is going to be something like tiling which has to be affixed with adhesive: if the surface is not level, the tiling is going to get cracked when people walk upon it.
A floor screed is also used for the installation of underfloor heating. Heating pipes or electric heating cables or mats are laid, and the floor screed laid on top. This helps to produce an even level of warmth in the room above.
A cementitious floor screed usually consists of a 1:3 or 1:4.5 ratio of cement to sharp sand and can also include other cementitious products, binders, and water.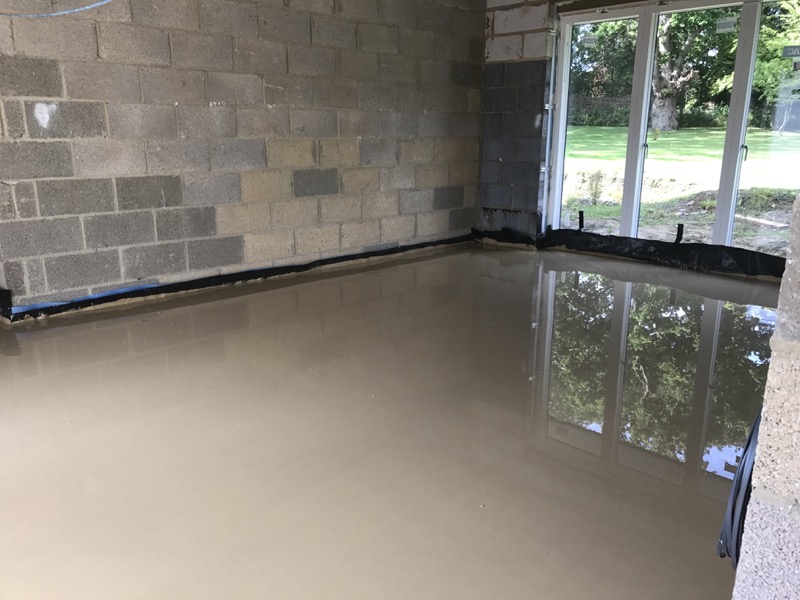 A sand and cement screed can be bonded directly on to the substrate or it can be laid unbonded on to a suitable damp-proof membrane which is laid over it first. If a rigid insulation material is being installed, the screed can be laid as a floating screed on top of that. If any sort of reinforcement is required, it can be of metal mesh or polypropylene fibres which will help to prevent curling and cracking.
A sand and cement screed can be mixed on-site, but this can lead to mixes being different, whereas a factory-mixed screed that is delivered to the site will be evenly mixed and of more consistency.
A sand and cement screed is laid by hand, and this is a lengthy process and is also one of the reasons that it may not be entirely level when finished. Surface regularity is the term used for the measurement of the "waviness" of the final surface and is measured as SR1, SR2, and SR3. SR1 is the highest standard, while SR2 is normal standard and SR3 is described as utility standard.
In recent years, floor screeds have been developed that use different materials from the traditional sand and cement, and these are mostly created from a mix of gypsum and sand which are produced in liquid form. This liquid, or flowing, screeds are the ones that we install here at UK Screeds, and they have several advantages over sand and cement.
Not the least of these is that they are indeed liquid, and thus are not laid by hand but delivered through the use of a pump and hose. The screeds are delivered to site ready-mixed and we then simply pump them on to the substrate. This process is reckoned to be around 20 times faster than laying a sand and cement screed by hand, and indeed our teams can lay as much as 2,000 square metres in a single day. This is a huge advantage as a time-saver on site.
Furthermore, our screeding in London, and the rest of England and Wales, is actually dry enough to walk on in as little as 24 hours, and certainly 48 hours. These two factors combined mean that there is virtually no delay for other contractors who need to work on the site and results in a much better chance of the project being finished on time or even ahead of time. One of the biggest problems with traditional screeds is the drying time, which can lead to penalties that can be severe. A liquid screed together with forced drying will be ready for the final floor far sooner than any other type.
Furthermore, our liquid screeds can be laid much thinner than a traditional screed, so less material is required. Granted, that it is more expensive than sand and cement, but when taking into account the speed of laying and drying time the costs are about the same.
In addition, a liquid screed is far better when underfloor heating is being installed. Because it is liquid it completely envelops the heating pipes and leaves no gaps. This means that there is perfectly even heat transfer to the room. Liquid screed also has heat transference properties of nearly double those of sand and cement.