At UK Screeds we are proud to have over 15 years of experience in the laying of liquid floor screeds throughout England and Wales. We have no less than 11 branches and we can lay a liquid screed for you at any construction site in the two countries.
Our team lays your liquid screed fast – as much as 100 square metres in 45 minutes and up to 2,000 square metres in a day. Our liquid floor compound will be dry enough to walk on in 24 – 48 hours, so the laying of the screed has virtually no effect whatsoever on other tradesmen that need to work on the site.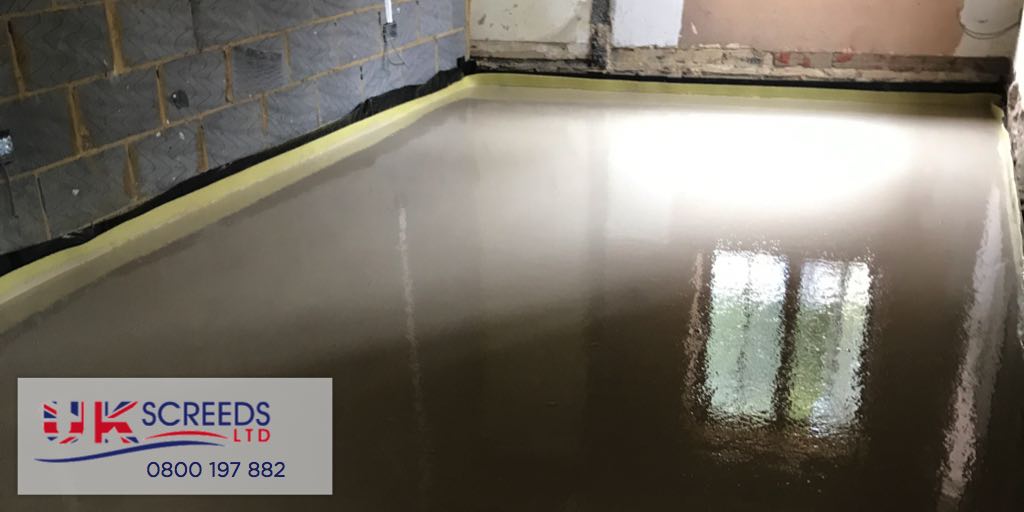 Our liquid screed is the perfect material to work for hand in glove with underfloor heating systems because it completely envelops the heating pipes and leaves no gaps. That of itself means that the heat is transferred into the room evenly with no hot or cold spots. However, our liquid screeds have far greater heat transfer properties than traditional sand and cement screed, so less energy is required to bring the heat in the room up to the level desired.
Another big advantage of our liquid screed is that it does not need to be laid nearly as thickly as sand and cement, so there is a saving on materials, and there is also a saving of weight. The screed dries at a rate of 1mm a day up to a depth of 40mm and 1mm every two days for any depth over 40mm. It can also be force dried seven days after being laid. Furthermore, liquid screed does not curl or shrink, and thus it minimises the likelihood of any cracking. It will easily achieve a level of Surface Regularity 2 and very often SR1.
Our liquid screed is environmentally friendly as well. There is far less carbon dioxide produced in its' manufacture than a sand and cement screed, and up to 36% of the product is made of recycled materials.
At UK Screeds you can rely on us to lay your liquid floor screed on time and on budget.