The purpose of a floor screed is to produce as near a level surface as possible upon which the finishing floor is to be laid, whether that is carpet, wood, tile, or more. A concrete substrate can have lots of dips and "waviness" and if you try to lay the finishing floor on top of it there will be problems, especially if it is tile. A screed is a thin layer of material that is laid on the concrete in order to produce a level to as near Surface Regularity 1 as possible. SR1 means that there is no discrepancy of more than 3mm over a 2-metre length.
Traditionally, screed was made of sand and cement and this is still used very often. It has to be laid by hand and is very labour intensive. However, as flooring screeding contractors, we lay liquid screed which is composed of gypsum and is known as anhydrite screed, which is what gypsum becomes when it dries.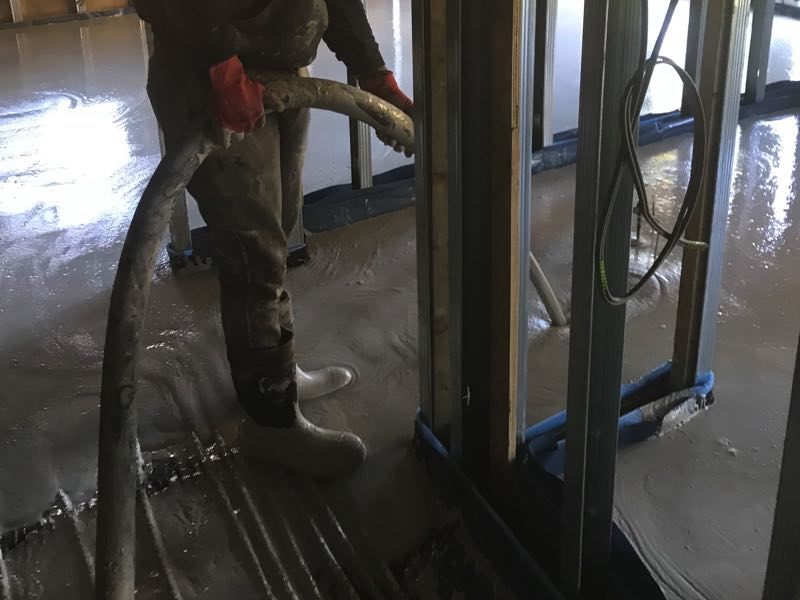 A liquid screed has very many advantages over traditional sand and cement screed. It is laid using a pump and this means that we can lay huge areas very quickly. Our team can lay 100 square metres in as little as 45 minutes, and up to 2,000 square metres in a day. The screed itself is more expensive than sand and cement screed, but when the labour cost differences are factored in they both work out about the same.
Liquid screed is also known as self-levelling screed simply because it is a liquid. It is, without doubt, the best type of screed to use in conjunction with underfloor heating because it completely envelops the heating pipes leaving no gaps. This means that the transfer of heat into the room is 100% and there are no cold spots. Furthermore, liquid screed doesn't curl and shrink as sand and cement can.
Another advantage of liquid screed is that it is dry enough to walk on within 24 – 48 hours. That means that it doesn't prevent other contractors from working on the site very shortly after it has been laid.