We are well-known as leading floor screeding contractors throughout England and Wales, and we provide a full floor preparation service from preparing the concrete substrate through to final sanding of the screed so that it is in perfect condition to receive whatever type of final flooring you are going to lay. We also install underfloor heating.
First of all, the concrete substrate must be cleared of any debris and must be levelled off so that there are no high spots. If there are high spots, it affects the thickness of the floor screed. The building should also be wind and watertight.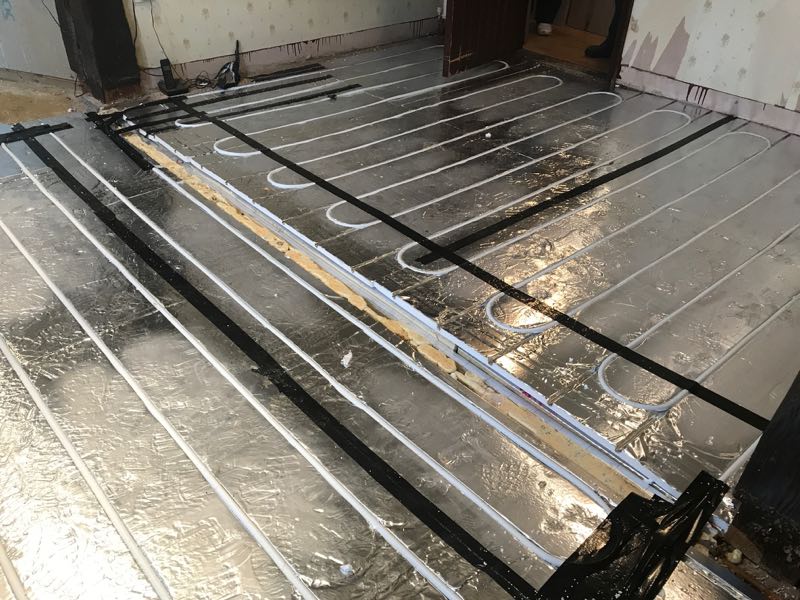 Then we lay a 1200-gauge polythene damp-proof membrane on the substrate, ensuring it is flat, with any overlaps of 100mm correctly taped. The insulation is then laid, and the joints taped with 100mm foil tape. Then a thin layer of plastic sheeting is laid over the insulation, but not turned up at the walls, rather fitted snugly to them like a fitted carpet. Next, the underfloor heating can be installed and laid prior to the screed is poured.
Liquid screed is the perfect solution for use with underfloor heating because it leaves no gaps, as can and often does happen with sand and cement screed. That means that the screed is in full contact with the heating pipes and provides maximum thermal efficiency because there is no heat loss in transfer. Underfloor heating is far more efficient than a radiator system. A radiator runs at about double the temperature required for underfloor heating, so once the underfloor heating is installed there will be an ongoing energy saving for as long as the building exists. The system can also be combined with a heat pump to reduce energy usage even further.
In addition, the underfloor heating which we install at Liquid Screed can also be used for cooling in the summer, and you can't do that with a radiator! Not only that, if required, you can have heating in one room and cooling in another at the same time.
When an anhydrite screed dries, it does leave a layer of laitance, as does sand and cement. This is why we provide a floor sanding service as well. This may seem like a simple operation, but in order to carry out the sanding so that the screed is finished to perfection does require a certain skill. What you can be sure of is that when we have laid and sanded the screed it will indeed be perfect.